Rebranding her Patreon added 700+ supporters in 13 days
Kina Grannis crashed the Super Bowl and went on Ellen, but framing Patreon as her record label is what doubled supporters
In April 2014, independent songwriter Kina Grannis joined Patreon as a way to let fans support her directly.
Between April 2014 and April 2017, Grannis climbed to 486 patrons.
But in April 2017, after one small positioning tweak and 13 days, she crossed 1000 supporters on the platform. 
By this point Grannis had crashed the Super Bowl, had over 100 million total views on YouTube, frequently collaborated with other independent artists, and completed a two-year stop-motion animation music video that picked up 13 million views and landed her an interview on Ellen.
Despite all of that (oh, and playing the wedding scene in Crazy Rich Asians), it was one video posted on April 7, 2017—with just 29,000 total views—that more than doubled Grannis' number of paying supporters.
What happened?
Patreon = ...record label? How a simple positioning shift doubled supporters
"As a lot of you know, I have done my fair share of dabbling in the world of labels. I have been on a major label, I've gone the indie route, and ultimately I've left all of them because of you. And over the years it has just become more and more clear that all I needed—and all I wanted—was you…
...You are going to be my actual label. And together we will name it, and we'll make a logo. I'll be using you guys to brainstorm and bounce ideas off of. And we'll have monthly online hangouts."
On April 7, 2017, Grannis posted a video titled "New Album (+ How to Get Your Name On It!)," which is where the above quote comes from. 
In about 4 minutes, Grannis explains that her Patreon community is now her "label." 
People who support her on Patreon would be able to get their name on her albums. They would also get access to hangouts, private posts, advance previews, and other perks that were already part of the Patreon community. 
Grannis' video comes across as truly heartfelt—at one point she invites listeners who can't pay for her music to just steal it. And the response from her fans shows that the feeling ran both ways.
Seven days after posting the video, the new "KG Records" had crossed 900 subscribers.
This Patreon post, sharing the first post-label cover video (Radiohead's "Creep") shows how quickly the response came together.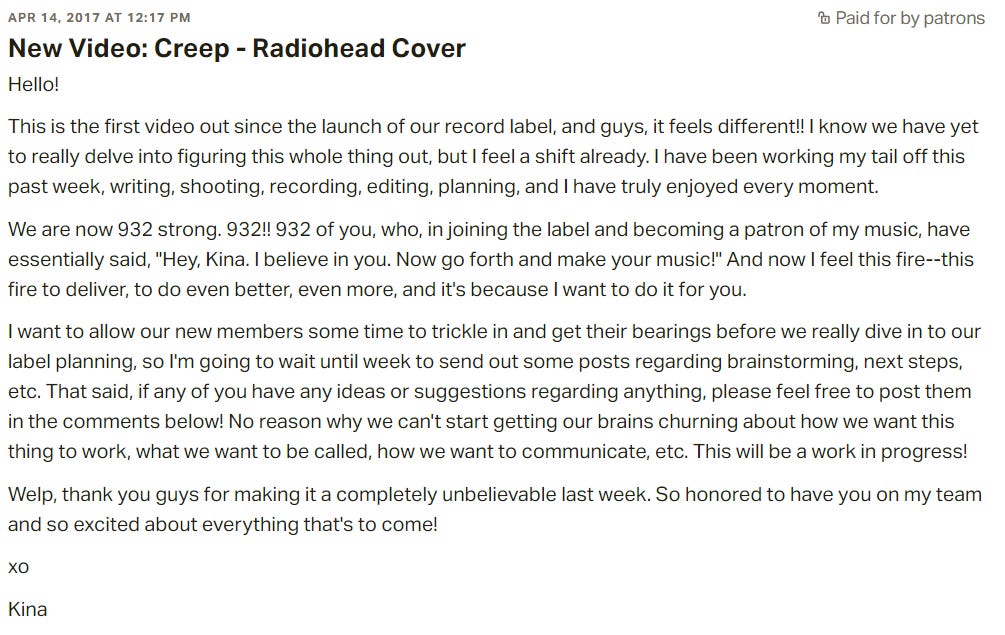 At the end of the Creep video (which was eventually featured on Howard Stern and currently has 1.2 million YouTube views), Grannis shows the names of her new Patreon supporters. You can watch the cover and see the full conversation about the label in the video here.
In 13 days after posting the initial video, Grannis crossed 1000 subscribers. From April 7, 2017 to April 20, 2017 she got more new patrons than she had in the full three years since joining Patreon.
All of that in response to rebranding her Patreon as a private record label. 
Even though...ultimately there's not much difference. People on the "label" still supported her through the Patreon platform. The monthly hangouts and sneak peaks are all common Patreon perks (some of which she already did for existing patrons). 
It's also worth noting—her video of Creep has been viewed 1.2 million times and has all the information someone would need to sign up for the label. 
But most of the growth in patrons happened in the week before the Creep cover was posted, in response to the 29,000-view label announcement.
Why did this work?
What made being part of a "record label" more exciting than being a "patron?"
The actual perks of supporting an artist on Patreon vs joining their private record label by supporting them on Patreon aren't very different. 
But the way the message is framed makes all the difference. 
There are at least two reasons that framing Patreon as a record label worked better:
A more direct call to action. "Support me on Patreon if you can" is a half-ask that's easy to tune out. "Join now to become part of my record label" is a call to action with some immediacy. 

Community. A "patron" is a supporter of the artist, so the main value is access to the artist (which label supporters still get). Joining a fan-based record label implies interacting with other fans—joining a community.
Look at some of the comments on the private Patreon post about the record label announcement.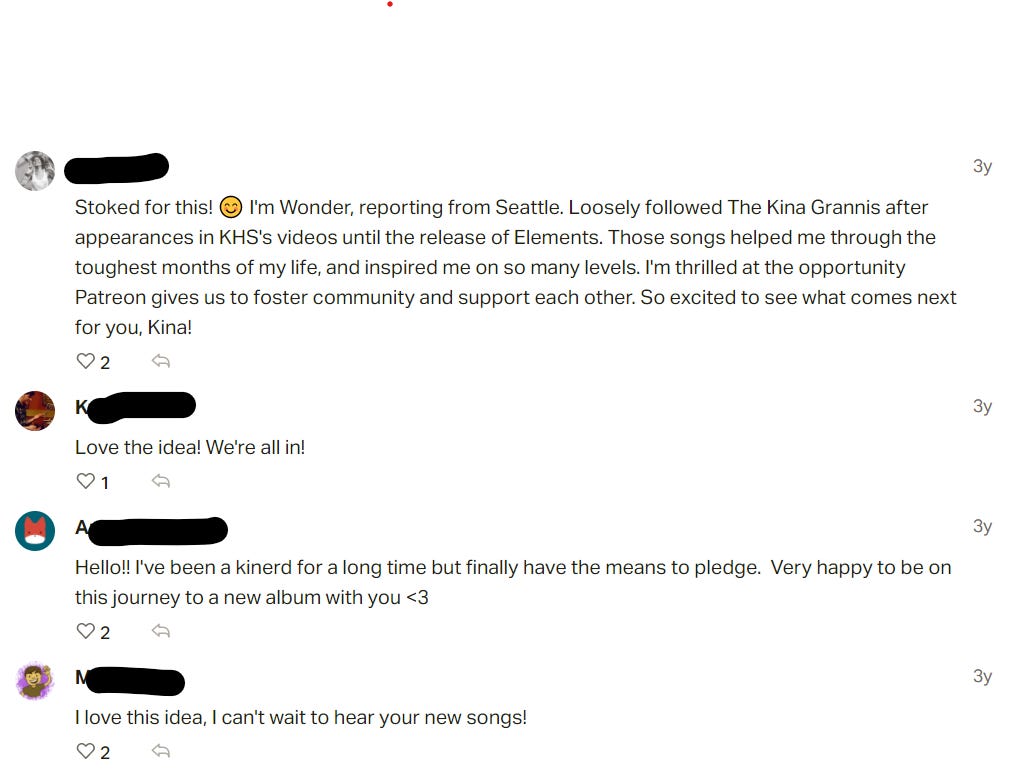 The comments are full of people who followed Grannis ("Kinerds") but had yet to support her on Patreon:
"I cannot wait! Signed up for Patreon just for you"

"The genuineness in everything you do is the reason I became a Patreon. Never would have I imagined myself doing something like this, but you truly are a huge influence to my life!"

"Designer, bee lover and kinerd since the beginning of Kina's journey. So excited to be part of this!"

"just became a patron and i'm very excited  because i was thinking about becoming one for a long time! I'm so proud of you kina! <3"

"New Patreon, long time Kina fan. Thank you for allowing us to be part of an awesome project."
A record label announcement pushed people over the edge into contributing because it gave them a reason (join a record label) that was more specific than vague "support."
Way back in 1931, copywriter Robert Collier wrote about the importance of "reasons to believe."
"Appeal to the reason, by all means. Give people a logical excuse for buying that they can tell to their friends and use to salve their own consciences. But if you want to sell goods, if you want action of any kind, base your real urge upon some primary emotion!"—The Robert Collier Letter Book
People buy for emotional reasons. But after that they justify those purchases with logic. It's easier to justify a record label than just a monthly bill from Patreon.
Art and music start emotional—what's missing from a standard Patreon pitch is a rationalization. Copywriters (in Collier's day and today) know that as long as someone thinks "well there's really no reason to buy this right now," they won't buy. 
Take another look at the above comments, and you'll see a pattern: "so excited to be part of this." Part of the reason to believe is the community, and comments inside Patreon are full of references to other fans:
"Hello fellow patrons! Just like Kina said, I want to get to know you all better!"

"I love the Kinerd Family, and let's keep supporting her"

"I never imagined I would be a part of something so amazing with all you amazing people!"

"super excited about all the upcoming creations and that I get to be a part of them!!"

"HI NEW FRIENDS :D"
(Note that although some posts are speaking directly to Kina, most comments are addressed to other fans). 
People who signed up for the new record label were largely existing fans. With that in mind, it makes sense that a 29,000-view album announcement video would drive more support than a 1.2 million-view cover of a popular song. People who watch a cover of "Creep" are mostly there for the cover, but every one of those 29,000 viewers was interested in an artist's future work. 
Patreon started as a way for fans to directly support artists, a play on the medieval concept of patronage. (Incidentally, Kina Grannis has collaborated with Patreon's founder and CEO Jack Conte on several occasions).
Recently, the platform has evolved to become a way that savvy artists build a private community around their work. 
Grannis built her community of supporters by changing how she framed support. Instead of "pay to support an artist," her pitch became "come join our community." 
And community has always been important to her. As early as 2013, four years before announcing her label, Grannis spoke at TEDxHollywood about finding community online as an independent artist. 
Today, KG Records has 1,700 supporters. A shift in her positioning became a way for Kina Grannis to build her community and get the support she needs as an independent artist.
Disclaimer: I am one of Kina's supporters on Patreon, which is how I was able to screenshot from inside the community. I started following her after the Crash the Super Bowl contest, but didn't support her on Patreon until this announcement in 2017.